REDA self‐cleaning separators of RE-P serie are used in the dairy industry to improve milk quality. Milk clarification represents a very important step in raw milk processing when aiming at high-quality dairy products. The effect of milk clarification is the removal of solid impurities which may be present into the milk. Examples of undesired constituents in raw milk are particles of dirt, straw, hair and sand particles, blood residues, udder cells and a great many different somatic cells, bacteria and spores. These clarifiers are designed to treat raw milk (cow, sheep, goat, etc.), and are capable to work both in warm and cold conditions (in this case by slightly reducing the bowl speed).
Feeding pressure passes through a soft flow inlet system that allows the product to reach the proper speed, at which the clarification occurs, without compromising quality characteristics of the fat: essential quality for the treatment of sheep milk and goat milk.
The wide working surface and the extremely fast expulsion of the sludges ensure an high level of clarification efficiency, and also a significant reduction of the bacterial load.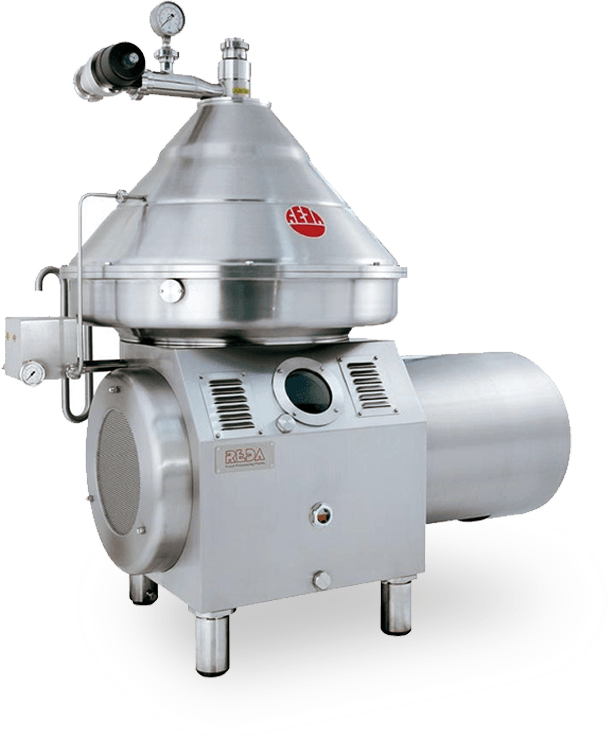 – Completely stainless steel execution
– High-grade finishing both for wetted and external parts to ensure proper sanitization and ease of cleaning
– Automatic solids ejections electronically controlled by PLC
– Possibility to execute manual discharges
– Self-cleaning device
– FREQ-CLUTCHTM: a specially designed variable frequency drive (VFD) system provides for fast and silent start, optimization of energy consumptions and quick speed recovery after solids ejections
– Direct gear transmission or by belt (FREE BELTTM), depending on the nominal flow rates
– Oil-bath lubrication without need of external lubrication circuit
– PRSTM system: new design of solids holding space with larger volume than the past.
By this means, significantly longer production intervals were able to be achieved between the ejections, resulting in a lower number of discharges, a reduction of the discharged volume and so lower product losses during each discharge
– SOFT-SPINDLETM: vertical rotating shaft with flexible gear system that guarantees almost unlimited duration to bearings and gears
– SERVICE-FREETM: design and number of gaskets subject to wear minimized to have easy and inexpensive maintenance
– Setup for automatic washing at the end of production in a closed cycle (CIP washing)
– Electrical panel with PLC and control through HMI with colour touch screen

In option:
– automatic back pressure valve on the processed product (standard on bigger size models)
– machine mounted on skid with preconnections (only for small-medium size models)